Managed Services
Comprehensive IT Support Management and Computer Network Maintenance for Businesses Throughout The Greater Portland/Vancouver Area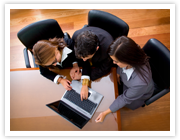 Fed up with computer problems? I just want IT support that makes my computers work! Have you ever said that?
IT Support and IT Management from Portland Managed Services is the answer, bringing predictability and reliability to your technology in The Greater Portland/Vancouver Area.
You can expect that our experts at Portland Managed Services will:
Spend the time necessary to get to know your business, your budget and just what you expect to be delivered; only the IT support services that YOU want, not what we assume you should have.
Deal proactively with computer support to prevent disastrous data loss and down time from taking place, instead of watching it go up in smoke.
Back up all the technology services we recommend by delivering 100% satisfaction-guaranteed results.
Let us show you how our flat-rate IT Support plans mean you can stop focusing on how much your IT is going to cost, and focus on your business instead.
Portland Managed Services catches the technology problems that can create costly downtime before they affect your business. Assisting businesses in The Greater Portland/Vancouver Area, our staff of experts can design a customized IT Management and computer network maintenance solution for your organization.
Whether your business is in need of network consulting and systems management services, network maintenance services, IT support, computer wireless networking installation, network and server support, remote & on-site support, or IT management services, we've got the solution.
Our dedication to the highest level of customer service and support ensures you'll never have to stress about technology again. When you have a reliable partner in computer network maintenance and IT Support, you can get back to running your business.
---
Areas Covered
We provide a range of Computer Repair, Network Services and IT Consulting in the greater The Greater Portland/Vancouver Area.
Local experts who can visit on-site: The Greater Portland/Vancouver Area Computer Repair, Gresham Network Services, Beaverton Backup and Data Recovery, The Greater Portland/Vancouver Area Computer Repair, Gresham Virturalization, Beaverton Email and Spam Protection, The Greater Portland/Vancouver Area Computer Hardware, Vancouver Hosted Software and Beaverton Network Services.