Bio: Dave Johnson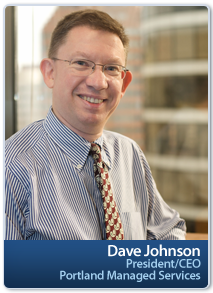 Dave Johnson founded Netropole Inc. in 1994 as a company that provides enterprise-level IT services and application development for small, medium, and emerging businesses in the Portland Metro area.
After realizing most IT companies nickel and dime their customers, Dave started the Portland Managed Services Division of Netropole in 2005, as a means for clients to pay a flat monthly fee for their IT. In exchange, Netropole assumes all risk and responsibility for keeping their computers running and their employees productive.
Dave has always been an industry leader when it comes to IT. Netropole has been providing cloud-based services since 1994, long before "Cloud Computing" became a business buzz phrase—with obvious credibility on the subject, Dave become an expert guest on America's longest running talk radio show: Computer America, and is a highly sought after speaker regarding Cloud Computing, as well as Business Continuation and Disaster Recovery. Organizations such as FENG (Financial Executives Networking Group) and CEIC (Central Eastside Industrial Council) have utilized the expertise Dave has to offer.
Recognizing the value of Microsoft SharePoint as a business collaboration tool, Dave founded the SharePoint User Group in 2004 and currently co-sponsors the group with Microsoft.
Through Netropole and Portland Managed Services, Dave provides Computer Support, Cloud Computing, Managed IT Services, Disaster Recovery and Business Continuation, SharePoint Solutions, E-commerce Solutions and has been Microsoft Certified since 1995.
Most importantly, Dave provides "Virtual CIO" consulting for clients of the Managed Services Division, working one on one with C-Level decision makers and business owners to provide an unbiased, independent view of the IT landscape and help them plan and make sound strategic decisions for their organization.
His professional career has earned Dave various honors and accolades including:
2022 - MSP Mentor - Top 501 Managed Service Providers – Globally
2021 - MSP Mentor - Top 501 Managed Service Providers – Globally
2020 - MSP Mentor - Top 501 Managed Service Providers – Globally
2019 - Inc. 5000 Fastest Growing Privately Held Companies
2019 - Channel Futures Top 100 Cloud Services Providers
2019 - MSP Mentor – Top 501 Managed Service Providers - Globally
2018 - MSP Mentor - Top 501 Managed Service Providers – Globally
2018 - Fastest Growing Private Company - Portland Business Journal
2017 - MSP Mentor - Top 501 Managed Service Providers - Globally
2017 - MSP Mentor - Top 100 Managed Service Providers - Small Business
2016 - MSP Mentor – Top 100 Managed Service Providers – Small Business
2016 - MSP Mentor – Top 501 Managed Service Providers – Globally
2015 - MSP Mentor – Top 100 Managed Service Providers – Small Business
2014 - MSP Mentor – Top 100 Managed Service Providers – Small Business
2014 - MSP Mentor – Top 501 Managed Service Providers - Globally
2013 - MSP Mentor – Top 100 Managed Service Providers – Small Business
2013 - MSP Mentor – Top 501 Managed Service Providers - Globally
2012 - Small Business Growth Award – 1-10 Employees – Portland Business Journal
2004 - Fastest Growing Private 100 Companies – Portland Business Journal
2004 - Pride of Portland for Supporting the NE Portland Community
2003 - 50 Best Software Companies – Portland Business Journal
2003 - Fastest Growing Private 100 Companies – Portland Business Journal